32" true-flat PCAP touch screen
Flexible configurations:

single/dual sided floor-standing, wall-mount

Modular design for easy serviceability
Reversible printing direction
Product display & advertising
ordering & payment
click & collect
ticketing & e-reservations
wayfinding & customer guidance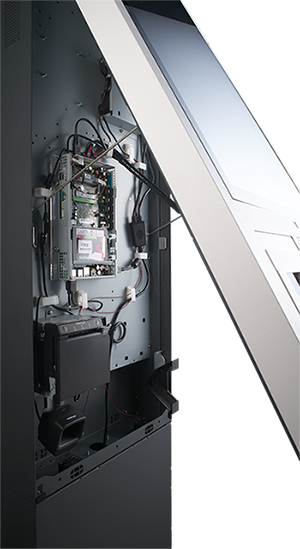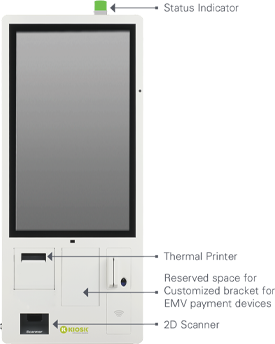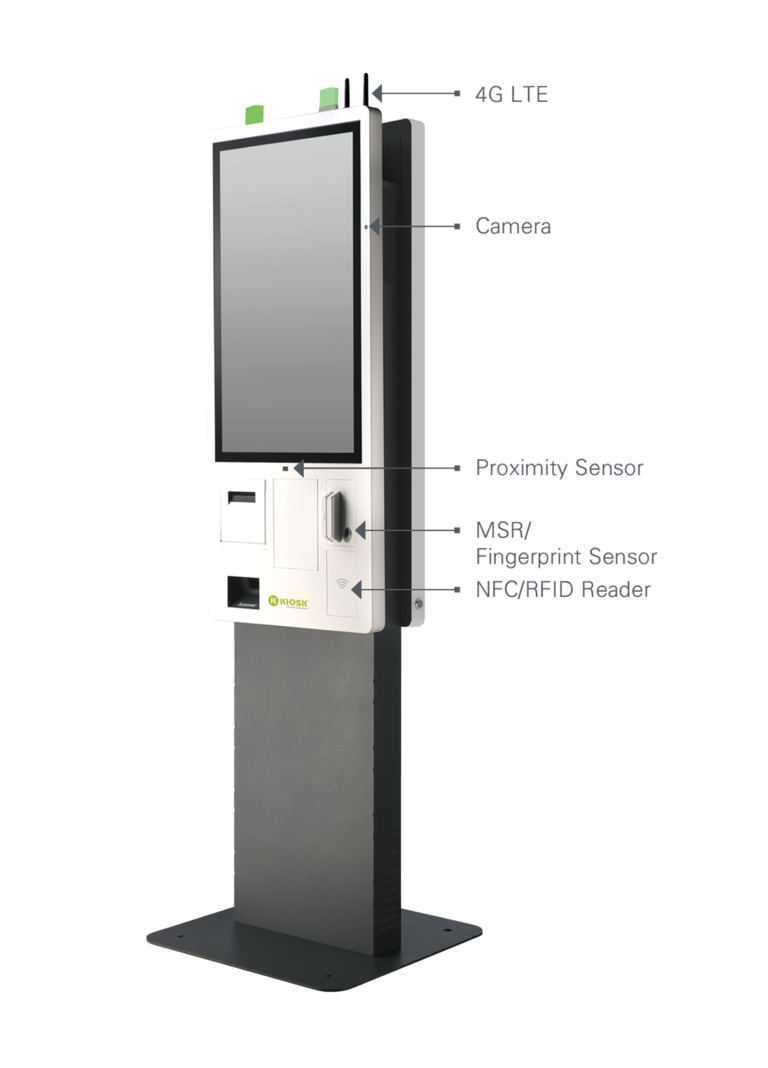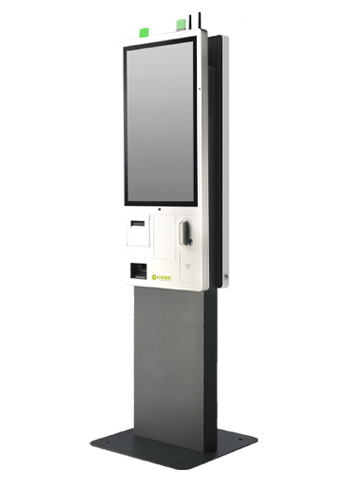 | | JK-3210 | JK-3230 | JK-3250 |
| --- | --- | --- | --- |
| Processor | Rockchip RK 339, Dual-core Cortex A72 + Quad-core Cortex A53 | Intel Bay Trail J1900 Quad Core, 2M Cache | Intel Kaby Lake U Core i3/i5 |
| System Memory | DDR4 4 GB | 1x DDR3L SO-DIMM slot, max. 8 GB | 1x DDR4 SO-DIMM slot, max 16 GB |
| Storage Device | 32 GB eMMC + 1x microSD slot | 1x M.2 SSD [SATA Signal Only] | 1x DDR4 SO-DIMM slot, max. 16 GB |
| Intel vPro Support | N/A | N/A | Optional |
| Power Supply | 1x 12V/60W + 1x 24V/60W | 1x 12V/60W + 1x 24V/60W | 1x 12V/60W + 1x 24V/60W |
| OS Support | Android 90*/Android 10.0 with GMS | Windows 7/POSReady 7/Windows Emedded 8.1 Industry/Windows 10 IoT | Windows 10 IoT 64 bit |
| Serial Port | 2x RJ 50,5V/12V support on all COM ports | 1x DB9 + 2x RJ 50,5V/12V support on all COM ports | 1x DB9 + 2x RJ 50,5V/12V support on all COM ports |
| Standard USB Port | 1x USB 3.0 + 5x USB 2.0 | 1x USB 3.0 + 7x USB 2.0 | 2x USB 3.0 + 6x USB 2.0 |
| OTG USB | 1x Micro-USB | N/A | N/A |
| Display Port | 1x HDMI | 1x HDMI | 1x HDMI |
| LAN Port | 2x 10/100/1000 Mb | 2x 10/100/1000 Mb | 2x 10/100/1000 Mb |
| Audio | 2x Internal 3W speaker | 2x Internal 3W speaker | 2x Internal 3W speaker |
| Camera | 1 MP wide Angle camera | 1 MP wide Angle camera | 1 MP wide Angle camera |
| WiFi | USB dongle (cannot coexist with 4G/LTE) | USB dongle (cannot coexist with 4G/LTE) | USB dongle (cannot coexist with 4G/LTE) |
| Printer | 3" thermal printer w/auto cutter, 200mm/sec max. | 3" thermal printer w/auto cutter, 200mm/sec max. | 3" thermal printer w/auto cutter, 200mm/sec max. |
| | JK-3210 / JK-3230 / JK-3250 |
| --- | --- |
| LCD | 32" |
| Resolution | 1920 x 1080 |
| Touch | True-flat PCAP touch with multi-touch support |
| | |
| --- | --- |
| | JK-3230 / JK-3230 / JK-3250 |
| Dimension (H x W x D in millimeters) | 602 x 602 x 1902 (Single or dual sided);495 x 152 x 1152 (Wall-mounted) |
| Weight (in kilograms) | 65 (Single sided); 81.5 (Dual sided); 35 (Wall-mounted) |
| | |
| --- | --- |
| | JK-3210 / JK-3230 / JK-3250 |
| Operating Condition | 0°C - 50°C, 20%RH - 90%RH (Equipped with SSD) |
| Storage Condition | -20°C - 70°C, 10%RH - 90%RH |
Slim, Modern, and Intelligent
With a true-flat enclosure, the Cachet JK-3200 Series features a bright, high definition 32" PCAP touch screen that makes it easy for customers to interact in a way they want.
Offering flexible configurations in wall-mounted, single or dual-sided operation, the Cachet JK-3200 Series adapts to evolving business needs.
Reversible Printing Function
A special printer driver that allows the printout from bottom to the top, so the printout is facing the user in the right direction, instead of the other way with the traditional printing. This seemingly small touch can greatly enhance the user experience.
The Cachet JK-3200 Series is integrated with a variety of peripheral options in self-device applications, including 2D Scanner, receipt printer, NFC, service indicator, bracket for EMV payment devices, and more.
Tailored for Easy Maintenance
Designed for easy installation, cable management, and maintenance, the Cachet JK-3200 Series makes everything simple, slim, and cost-efficient.
Let us help you
with a quote.