Having a theater can be a profitable venture. No matter the amount of choices for viewing movies at home — lots of folks still need that big-screen movie-viewing experience. But just like every business, daily operations pose challenges. A self-service kiosk can't just help to address these challenges, but also provide substantial benefits. Here's a sample of just a few of the benefits of self-service kiosk technology in a theater environment.
Shorter ticket queues: Installing a self-service kiosk on your cinema's lobby permits for line-busting. Rather than getting tickets at a ticket window, movie-goers rather can decide to create ticket purchases in the kiosk, using touchscreen-based prompts to guide them through the purchasing and payment procedures and instantly printing their tickets. A self-service kiosk also shortens ticket queues by allowing customers to book and pay for their tickets on the internet, and print them out when they arrive in the theater.
Easier concession coordination: Coordinating food prep at the concession stand may be a hard task for cinemas, even though there are lots of workers behind the counter at any single juncture. Things become even more complicated when hot foods, such as hot dogs, chicken tenders, pizza, and other cuisine are additional into the concession menu alongside such favorites as candy, popcorn, and soft drinks.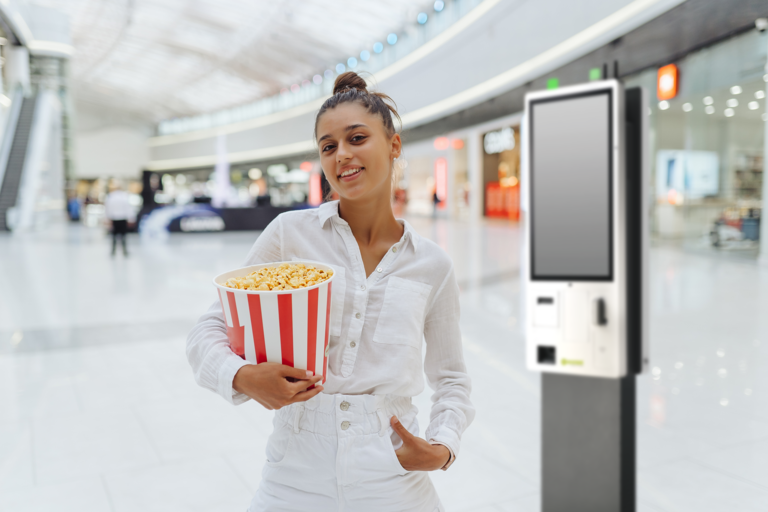 Seamless Event Management with our Touring Kiosk
Self-service kiosks are essential for the entertainment industry from both the consumers' and the organizers' end. Our touring kiosk support on-site registration, badge/ticket printing, access control and more applications which reduces crowd at the entrance of any event.
Minimize the cost of human resources with self-registration facilities
Better data management of all the guests: pre-registrations, late walk-ins
Hygiene and safety is ensured for guests by touchless check-in using our QR-Scanner Code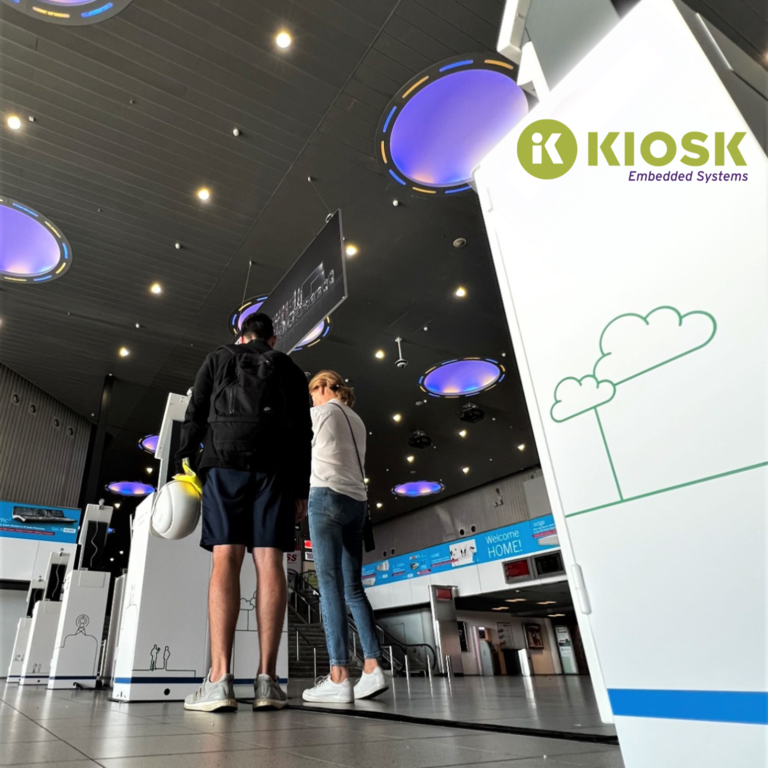 Entertainment Applications
Interactive digital signage kiosks are a technology staple for displaying relevant information and engaging patrons in Retail and across several other key industries. Intelligence-enabled signage allows retailers to interact with consumers, providing relevant and targeted ad content and information. KIOSK offers interactive digital signage kiosks with sophisticated artificial intelligence features to help deployers maximize the return on their signage investment and enhance today's omnichannel shopping experience.
Foodservice operations of all types are facing a severe labor shortage, and that's not likely to change for the foreseeable future. An order entry kiosk can assist with labor challenges, allowing customers to place an order at their own pace. Self-ordering application in kiosks adds value to both small and large quick-service restaurants allowing them to maximize their labour resources to run operation efficiently
Take the chaos out of waiting by providing relevant queuing information. Show your guests their queue status in a real-time waiting list, and call them forward when you are ready for service. Improve visitor wayfinding through attention-grabbing notifications. Alert customers of their turn, and direct them to the right point of service and the right service agent.
Our POS systems possess the advantages of open architectures and cross-platform integration. The full range of product lines include self-serve kiosks, integrated POS systems, programmable keyboards, LCD displays, touch displays, customer displays, optically coupled barcode scanners, cashier's moneyboxes, barcode card readers, fingerprint readers, POS printers, and other relevant peripheral accessory products. The product profile fulfills customers' one-stop shopping requirements. The diverse applications of the products have allowed them to be widely used in various domains, including retail, catering, large-scale shopping centers, chain stores, entertainment venues, logistics, medical institutions, and e-commerce businesses.
A self-ordering kiosk gives guests the power to order and pay by themselves – kind of like a sophisticated vending machine, but for meals. These systems usually consist of a touchscreen (often a tablet) equipped with an easy-to-use digital interface. Restaurants of the cinemas that introduced kiosks experience an average 5% to 6% lift in sales due to changes in customer behavior. This enhances order accuracy and provides flexible staffing.
The badge printing application in the kiosk extends the module kiosk by the direct printout of the visitor badge. After recording all visitor data, including the signature for the The badge printing application in the kiosk extends the module kiosk by the direct printout of the visitor badge. After checking in, guests can simultaneous create a printout of the visitor badge. With this, the effort of reception at an event's entrance is significantly reduced. By combining self-check-in kiosks with staffed registration desks, event organizers can cut onsite costs in half. Businesses no longer need to pay for shipping & postage to get pre-printed badge templates delivered to the location.