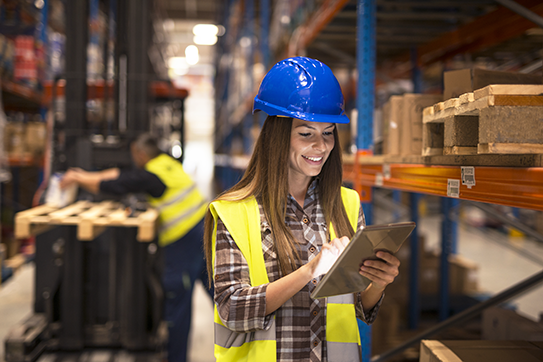 Kiosks in Transport and Logistics businesses enables the smart warehouse. To ensure optimal inventory levels are maintained in the warehouse, you need to accurately document pertinent product information and location during the replenishment and put-away process. This is imperative for warehouse operations like picking, cycle counting, and reordering to run smoothly. Identify and verify shipments in real-time by scanning barcodes, RFID tags, or RMA labels. Mobile processes empower receiving staff to be more productive and accurate.
Transport & Logistics Applications
Self service check-in and check out applications in kiosks solutions work as an alternative to the conventional front desk service where staffs can check-in, acess and check-out of their warehouse without assistance. It's widely agreed that with the hectic pace of modern life, and particularly in the wake of covid-19, logistics and supply chains embrace the advantages of check-in/out kiosks will gain an edge over their competitors.
Take the chaos out of waiting by providing relevant queuing information. Show your workers their queue status in a real-time waiting list, and call them forward when you are ready for service. Improve staff wayfinding through attention-grabbing notifications. Alert deliverymen of their turn, and direct them to the right point of service and the right service agent.
Our kiosks allow users to call and book various rental services. It can be used by transport companies to book daily operational supplies. We can provide digital signage rental solutions custom tailored to your business or specific events. Get in touch with us to discuss further about its benefits for your business.
Navigate faster and simplify the entire picking process with increased productivity by using our kiosks and POS solutions. Packing and staging are the most hands-on jobs in your warehouse and distribution centre's shipping department. Achieve flawless fulfilment by doing a final check at the end of the line to ensure that each order has been accurately picked, packed, and staged for the right destination.