Canopy is a remote management software platform that provides the essential foundation for an easily managed and successful kiosk deployment. The platform leverages the Internet of Things, enabling you to receive real-time communications and alerts from your system and components, NOT your customers.
Canopy facilitates live data exchanges between the deployed kiosk Client and the Cloud Server, providing real-time performance alerts of the elements that drive uptime, customer experience, and your brand reputation in the field:
System connectivity
Status of kiosk applications
Component performance and maintenance alert status. Components include receipt and thermal printers, card and check readers, bill acceptors / dispensers, scanners, card dispensers, and more.
Intuitive dashboard management tools simplify network setup and day-to-day management tasks including:
Installation and updates
Kiosk administration, user management and security
Reporting and logging
Call for a Canopy platform demonstration or a quote on KIOSK turnkey active remote monitoring (we do it for you).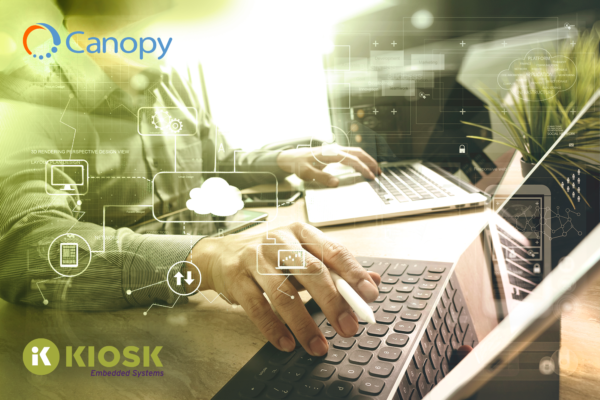 The CORE K-NECT serverless infrastructure resides in the cloud acting as a web-based control center facilitating rapid application deployment, kiosk registration, and storage of critical data used for ongoing management and event analysis. The CORE K-NECT client resides on the kiosk and facilitates regular communication with the server through MQTT, a lightweight messaging protocol ideal for remote devices and variable networks. The platform provides a secure and extensible foundation for even the most complex self- service applications. Features include: